Falling Lovers
Approved for all ages
Falling Lovers - bring the pair of blocks together!
Falling Lovers is a cute brain game in which you can bring two blocks in love together by rotating platforms.
By clicking and moving, you can move the platforms that the two blocks are on, allowing the top block to slide down towards its counterpart and fall. Rotate different pieces of wood at the same time and find the right position for your project. Use the mouse or your fingers to do this and be careful that the Falling Lovers don't get impaled by sharp spikes or fall into nothingness during the fall. Then you can start the level over and figure out the right way to solve it. 36 levels of challenges await you!
Can you make the cute lovers fall towards each other? Find out now and play Falling Lovers free online on KibaGames!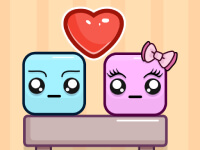 Falling Lovers
Originalname:
Game Hits:
0
Online since:
22.
04. 2022
Developer: