Extreme Blur Race
Approved for all ages
Extreme Blur Race - Drive the fastest laps!
Extreme Blur Race is a existing racing game where you can race fast in single or multiplayer mode!
Race fast against the clock, seven other racers or against a friend on a keyboard. To do this, after starting the game you choose whether you want to play single player or compete with someone else in multiplayer mode. In single player mode you can choose between Arcade and Time Trial. In Arcade mode, you race against other AI-controlled vehicles. Over three laps you have to prevail against the other drivers.
At the beginning, you choose a vehicle and a track on which you want to race. During the race you can use small power-ups, such as the lightning bolt, which accelerates you for a short time, or the lightning ball, which tracks and stuns the vehicle. This will give you the chance to overtake the car. In Time Trial, the time race, you drive alone on your chosen track and try to beat your own time. Here, too, you have the power-ups from the Arcade mode at your disposal. In multiplayer, only the arcade mode is available to you. Here you race against each other, but also against the AI-controlled opponents.
More hot racing games for you
If you liked Extreme Blur Race, why not play Motorbike, an ultra-realistic motorcycle racing game!
Now face all the challenges behind the wheel again and play Extreme Blur Race online for free on KibaGames!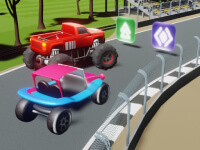 Extreme Blur Race
Originalname:
Game Hits:
0
Online since:
25.
05. 2023
Developer: