Exit The Maze
Approved for all ages
Exit The Maze - turn the maze in the right direction!
Exit The Maze is a classic maze game in which you can rotate the square maze so that a ball can fall out.
Rotate the maze and let the green ball roll towards the white exit. You can use the arrow keys or click on the control arrows on the screen. The challenge in Exit The Maze is that you'll have to keep steering past the various obstacles. As in the analog 3D version of the game, it is important to take the right direction and catch the best moment to change direction. The speed of the turn is often important as well, so that the ball doesn't slide back into a dead end.
Now turn the maze skillfully through many levels and play Exit The Maze free online on KibaGames!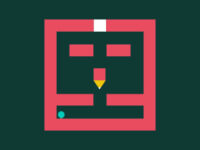 Exit The Maze
Originalname:
Game Hits:
0
Online since:
12.
06. 2022
Developer: