Emily's Home Sweet Home
Approved for all ages
Emily's Home Sweet Home - Earn money for the new house!
Emily's Home Sweet Home is an extensive time management game in which you'll be able to help the O'Malley family work on a neighborhood project and renovate their dream house!
The small family around Emily has moved to a new neighborhood to start over. This includes getting involved in the neighborhood and feeding the neighbors at the community house which is used as a restaurant.
Controls: The game is played with the mouse or your finger. In the later levels, other family members, such as Emily's husband Patrick, help out to make the neighbors happy and earn money for the new house.
Serve your guests at the counter or at the smaller tables with delicious dishes and decorate the tables with beautiful bouquets of flowers.
Some ingredients for dishes need to be combined so that, for example, a cake is created. Also a beautiful bouquet can be combined from different flowers. The wishes of the neighbors appear above their heads in speech bubbles. Don't make your neighbors wait too long, because otherwise you will upset them and they will leave without having bought anything. After you have fulfilled their wishes, you must of course collect your money. The tables also have to be cleaned after the guests leave, so that new guests can sit down at them. Can you keep track of all the tasks?
More beautiful online games with Emily
If you liked Emily's Home Sweet Home, why not play Delicious: Emily's Miracle Of Life?
Cook, bake, decorate and renovate the house! Manage all tasks and play Emily's Home Sweet Home free online games on KibaGames!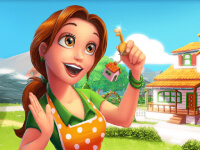 Emily's Home Sweet Home
Originalname:
Game Hits:
0
Online since:
18.
01. 2023
Developer: