Emerald And Amber
Approved for all ages
Emerald and Amber - bring the emerald boy to the amber girl!
Emerald and Amber is a cute platform game in which have to reunite two gemstone characters who are trapped in a mysterious maze.
Emerald and Amber have lost each other and you have to help them reuinte in 27 exciting cave levels. Use the arrow keys to control their movement and overcome all the platforms and obstacles, some of which are moving, to bring the green and orange-brown stones together. In the mobile browser you can use the on-screen buttons. When Emerald and Amber meet, you have won the level. Press the up arrow key longer to jump extra high.
But be careful, some of the ice blocks in this cold cave are movable and hard to climb. Use the right moment to make Emerald jump and use ledges as help. And another tip: you can also make Emerald stick to smooth surfaces by jumping against them for a long time and thus transporting him upwards.
Can you reunite the loving gems in this retro pixel game? Find out and play Emerald and Amber free online on KibaGames!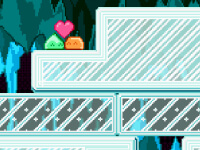 Emerald And Amber
Originalname:
Game Hits:
128
Online since:
02.
10. 2021
Developer: