Eco Inc. - Save The Earth
Approved for Ages 6+
Eco Inc. - Save the Earth - save the planet!
Eco Inc. - Save the Earth is an exciting strategy game in which you'll be able to stabilize the ecological situation of planet Earth.
In this simulation game you'll be able to influence the situation on Earth from an early stage and not allow environmental damage to reach irreparable proportions. Start your mission with the tutorial and learn how to take action on the different continents with your environmental protection organization, Eco Inc.
It's especially important to have the population on your side and build a good relationship of trust. For this, you'll receive points on the loyalty scale, which should of course have a particularly high value. Play through the coming years, promote sustainable life and economy, and bring people and nature into balance.
How to play Eco Inc. - Save the Earth
Play by clicking or tapping and keep collecting the green Eco-points, which serve as currency for your projects or actions. Many different courses of action, well managed, will lead to good statistics and save the planet!
Influence the eco indicators like climate, fresh water, soil, forest, animals and ocean and bring them into the green area.
You'll have to react as thoughtfully to natural disasters like earthquakes as to man-made negative effects like air pollution, climate change, microplastics in the oceans or poaching.
Then implement different projects or measures: for example, build reserves for wildlife, send volunteer teams to fight fires, develop low-carbon technologies, or have scientists study the impact of environmental factors.
Sustainability is everyone's business! Take on the most important challenges in environmental protection and nature conservation on every continent and play Eco Inc. - Save the Earth free online on KibaGames!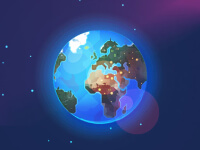 Eco Inc. - Save The Earth
Originalname:
Game Hits:
0
Online since:
21.
03. 2022
Developer: