E-Scooter!
Approved for all ages
E-Scooter! - race your electric scooter!
E-Scooter! is a fun racing game in which you'll be able to race your electric scooter around the city streets.
Control the e-scooter with WASD or the arrow keys and soon set your new high score. Drive from one charging station to the next and collect lots of gold coins, energy dispensers and speed boosters as you wind your way through the heavy traffic. Make sure your battery doesn't drain completely and keep setting a new distance record. You can then use your winnings to unlock new e-scooters and pass more checkpoints with these particularly fast scooters. This also earns you the opportunity to use new electric scooters.
Step on the gas now with the best battery power and play E-Scooter! free on KibaGames!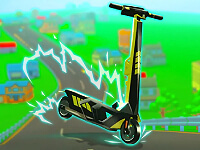 E-Scooter!
Originalname:
Game Hits:
0
Online since:
25.
03. 2022
Developer: