Dynamons 4
Approved for Ages 6+
Dynamons 4 - Let the mini monsters fight!
Dynamons 4 is an exciting action game in which you'll be able to collect mini-monsters, train them and make them fight.
Collect the unique Dynamons to train them and let them compete against other mini-monsters, similar to the world of Pokémon. You can catch up to 23 different Dynamons using a disc. However, it's best to weaken the health points of the little creatures first by attacking them. This will give you a higher catch rate later on.
After you have won them over and trained them, the Dynamons rise in the level ranking and can learn new attacks, which in turn make it easier to win battles. For a new level you also need diamonds, which you collect during your adventures. Other Dynamons trainers will also get in your way with their little animals and challenge you to a friendly trial of strength.
Click on the fields with an exclamation mark on the world map. Here you will find either wild Dynamons or trainers. If you already have several Dynamons, you can exchange them during the battle under "More" and use the best creature for the respective battle situation.
More exciting minigames with the Dynamons
If you liked Dynamons 4, then play Dynamons World.
Win exciting duels now and play Dynamons 4 free online on KibaGames!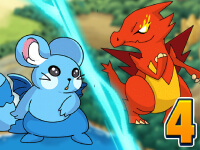 Dynamons 4
Originalname:
Game Hits:
0
Online since:
26.
11. 2022
Developer: