Drifting Mania
Approved for Ages 6+
Drifting Mania - set a new high score in cornering!
Drifting Mania is a fast-paced car game where you can set a new high score in drifting around curves.
Your car starts by itself after clicking and drives straight ahead. Then drift through as many curves as possible by clicking and holding the mouse at the right moment or tipping and holding on your smartphone screen. React at the right moment to avoid being thrown out of the curve or crashing into the rail of the racetrack. The points in the curves are the anchor points around which your race car will skid.  Then, in Drifting Mania, pass as many of these corner checkpoints as possible to set a new high score. This requires the utmost concentration!
Stay focused and also collect valuable diamonds on the straights between the curves. You can spend the gems in the main menu under "configurations" for new cars, more colors and even new background music.
Achieve a total of 30 Achievements for good driving maneuvers or financial successes and drive 13 fast cars.
Now get your tires spinning again and play Drifting Mania free online on KibaGames!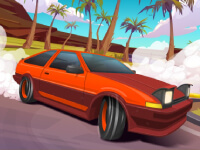 Drifting Mania
Originalname:
Game Hits:
0
Online since:
25.
06. 2022
Developer: