Dream Life
Approved for Ages 12+
Dream Life - Build a new home for a family in need!
Dream Life is an exciting match 3 game in which you'll be able to play through an exciting story and build a new home for a mother and her daughter.
Dream Life begins with a dramatic story: a mother is thrown out of her home along with her little girl by her begrudging brother-in-law after her husband is declared missing. Help the mother and her daughter build a new, safe life and renovate an old house. Experience lots of puzzle fun while combining the tiles in the same colors. As always, combine three or more tiles of the same color to remove them from the board and earn points. As always, complete level objectives that require you to collect a certain number of tiles, keeping in mind that in Dream Life you'll only have a certain number of moves.
Take down obstacles in the levels and use the power ups that appear when you can form especially large color clusters. Then get rockets, bombs or even a rainbow ball. The rocket clears columns or rows, while the bomb removes rocks in the immediate area. The rainbow ball serves as a color joker.
In the store, you can buy more power ups for earned coins, which can be the turning point on your way to help the little family. After all, if it's enough to successfully complete just one level to repair an item at the beginning, you'll need more stars for successful renovations later on.
More decoration games for you
If you liked Dream Life, why not play Home Makeover?
Can you create a new home for the young family in need and will the father return safely to his wife and daughter? Find out now and play Dream Life online for free on KibaGames!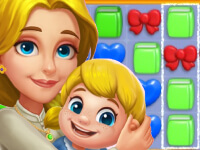 Dream Life
Originalname:
Game Hits:
0
Online since:
20.
11. 2022
Developer: