Draw The Coffee
Approved for all ages
Draw The Coffee - fill the coffee cup!
Draw The Coffee is a fun brain game where you fill a coffee mug by drawing matching lines.
Use your mouse or finger to draw a line to fill the coffee cup with the popular caffeinated drink. Make sure you draw the right angle and don't spill any coffee. Overcome all obstacles to enjoy a good coffee break. Above, next to the pencil, you can see how much graphite you can still use from the pencil tip. As long as this resource is still available, you can draw as many lines as you like. Then you should use the lever of the coffee press and fill the mug. Finally, put an environmentally friendly lid on the cup and start the next level Draw The Coffee!
More fun games where you can fill cups
If you liked Draw The Coffee, why not play Happy Glass?
Tiredness was yesterday, now it smells like fresh coffee! Time for a break, play Draw The Coffee free online on SpielAffe!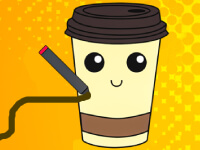 Draw The Coffee
Originalname:
Game Hits:
0
Online since:
04.
10. 2022
Developer: