Draw The Bridge
Approved for all ages
Draw The Bridge - draw the best driving routes!
Draw The Bridge is a cool brain game in which you can draw a bridge to the destination for a little red car.
The little runabout needs your help to get to the destination safely and collect up to three stars along the way. Use your mouse or finger to draw the path that the car should take, overcoming deep canyons and other obstacles. Click the play button in the top left corner when you are ready to let the car start.
In numerous levels you can guide your vehicles safely to the red finish flag. Make sure that the angles are not too steep, otherwise the car risks getting stuck or overturning. Build bridges, explore the best driving routes over each hill and manage more and more cars the further you get in Draw The Bridge. Click the replay button if you want to start the level all over again.
Start drawing now and play Draw The Bridge free online on KibaGames!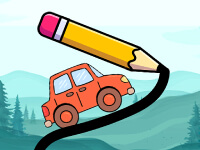 Draw The Bridge
Originalname:
Game Hits:
0
Online since:
21.
06. 2022
Developer: