Draw And Park
Approved for all ages
Draw and Park - draw the correct driving path!
Draw and Park is a cool brain game in which you can draw the correct driving path of cars to their destination parking lot.
Each car should be parked in a specific parking place. Use your mouse or finger to draw a line from the starting point to the parking lot and collect some coins along the way. Click GO to start the little racers. In higher levels you will have to manage several cars at once. Find the right paths and let the cars drive without colliding with each other or an obstacle. If you do crash, you can start the level over again.
Manage all the cars now and play Draw and Park free online on Kibagames!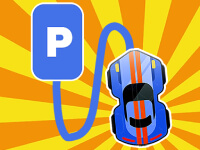 Draw And Park
Originalname:
Game Hits:
60
Online since:
10.
02. 2022
Developer: