Downhill Chill
Approved for Ages 12+
Downhill Chill - race down the slopes on skis!
Downhill Chill is a cool sports game where you can race down the snowy hills on skis or snowboard!
Control your skier or skier with the mouse or by swiping back and forth and be the first to reach the finish at the bottom of the hill. The slope is prepared with gates, ramps and other obstacles. Drive through the gates, fly over the ramps and do flips. Release the mouse button when you want to finish the rotation in the air and collect extra points for great tricks and stunts. And your fast downhill times will also be rewarded with bronze, silver or gold snowflakes. 
 
Equip your winter athlete better and better with your snowflake winnings in the store, hire new skiers and face ambitious opponents. As you complete the daily missions, you can earn additional snowflakes in Downhill Chill. Then collect 30 stars on each mountain and face new challenges again and again. 200 exciting levels in great 3D graphics await you! And the best part is that you can play this Downhill Chill app game in your browser without downloading anything.
Now hit the slopes! Set the best times on each slope and play Downhill Chill free online on Kibagames!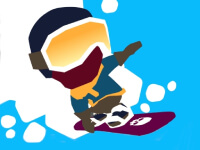 Downhill Chill
Originalname:
Game Hits:
155
Online since:
07.
12. 2021
Developer: