Dirt Bike Motocross
Approved for Ages 12+
Dirt Bike Motocross - at high speed over hill and dale!
Dirt Bike Motocross is a fast motorcycle game in which you'll be able to race against a different large crowd of opponents.
Face one, three or five opponents and see who can cross the finish line first. Use the arrow keys or WASD to steer the motocross bike around the hilly track and balance your rider well. You can reset after a crash, but your opponents will outrun you! Quickly chase after them!
Win races to unlock the next level on 15 tracks. Earn prize money that you can use to upgrade your motocross bike and make it more durable. Mud and dust can take a toll on motorcycles!
Overcome every hill and obstacle now and play Dirt Bike Motocross free online on KibaGames!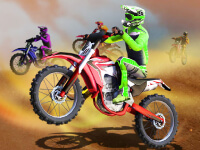 Dirt Bike Motocross
Originalname:
Game Hits:
0
Online since:
04.
08. 2022
Developer: