Dig This
Approved for all ages
Dig This - Grab the shovel!
Dig This is an exciting brain game where you dig a path underground for a ball!
Grab your hard hat and start digging! Shovel the way to the target and use your mouse or finger to move the soil aside. Your goal is to make a ball roll down the path so that it lands in the green container at the end of the tunnel.  It's easy at the beginning, but the more levels you complete, the more difficult the next tasks become. You'll encounter limitations in the form of walls, through which you'll have to guide the ball, or wooden boards that will topple over when your ball touches them. So dig in such a way that these planks have room to tip over, but don't push in front of your ball, preventing it from reaching its destination. Or have a rock roll in such a way that it bumps against your ball so that it can roll off a flat surface into the ground.
Tips, tricks and an Easter Egg
So this gravity puzzle requires not only digging, but also thinking. If things don't work out the way you want, you can restart the level with the arrow in the upper right corner. Or you can use the light bulb to get a hint.
There is even a little Easter Egg hidden in Dig This - can you find it? A little hint: It is located on the first screen you see. If you find it, you will get a small reward in the game.
More mini-games where you can dig for treasures
If you liked digging in Dig This, then play Mad Digger and search for valuable gems underground.
Use the online game of the well-known VOODOO app without any download and play Dig This online for free on KibaGames!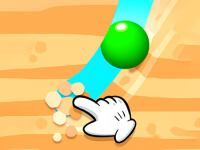 Dig This
Originalname:
Game Hits:
0
Online since:
30.
01. 2023
Developer: