Delivery Racer
Approved for Ages 6+
Delivery Racer - deliver all the deliveries!    
Delivery Racer is a fun racing game in which you'll be able to deliver all sorts of letters and packages on a scooter.     
Control the fast delivery boy with the mouse or by swiping left and right and stop him by releasing the mouse button or the screen. Deliver your letters and parcels on the green delivery lanes next to the mailboxes and be sure to watch out for traffic. Car drivers, pedestrians and cyclists should not be knocked down or crashed! But take the opportunity to collect the bundles of money on the track and jump over the ramps to pick up even more speed. However, you should make your Delivery Racer stop before lowered barriers and red lights.     
Finish safely and with your pockets full, and use your earnings to buy new skins and vehicles!     
Nothing stands in the way of your new career as a messenger! Deliver the mail now and play Delivery Racer free online on Kibagames!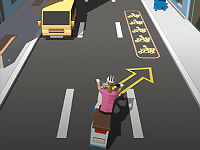 Delivery Racer
Originalname:
Game Hits:
1.777
Online since:
04.
11. 2021
Developer: