Danger Dash
Approved for Ages 6+
Danger Dash - escape from the tigers!
Danger Dash is an exciting jump and run game in which you'll be able to escape from a group of tigers in the jungle.
As an adventurer, you don't have it easy! You get around and see all kinds of cultures and treasures, but you also expose yourself to dangers like a hungry pack of tigers. Normally, tigers are solitary animals, with one exception: females and their cubs naturally live together for a while. Of course, the mother tiger teaches her offspring how to hunt, so you better run to escape the tigers! The Endless Runner takes you through ancient ruins in the jungles of Asia and allows you to set a new high score over and over again.
How to play Danger Dash
You control your hero Chuck Ace with the mouse, arrow keys and your finger. Swipe and swipe in the direction you want to dodge.  
Run as fast as possible without stumbling! You have three tracks at your disposal, between which you have to switch back and forth.
You will have to jump over obstacles or slide under them.
Collect the golden treasures on the race track through the jungle.
One little mistake and the pack will have you. Or do they? Buy your way free with gold coins after a game over and get a second chance.
To help you escape, you can also buy power ups for ingame money that give you more money coins, grant a larger multiplier, or give you the ability to turn into a white tiger as you escape.
You can also use your coins to buy more skins.
More Adventure Games with Endless Races
If you liked Danger Dash, why not play Relic Runway?
How far will you make it during your escape? Set a new high score, achieve glorious achievements and play Danger Dash online for free on KibaGames!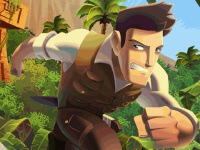 Danger Dash
Originalname:
Game Hits:
0
Online since:
29.
10. 2022
Developer: