Crowd Run 3D
Approved for Ages 6+
Crowd Run 3D - get your whole team safely to the finish line!    
Crowd Run 3D is an exciting fun game where you can run with a group of men past any obstacle to the finish!   
Arrive at the finish of the level with as big a crowd as possible and sneak past every hazard. This can be moving gears with spikes as well as deep canyons or groups of enemy males. The group with the largest number of members wins the battle. 
Skillfully avoid all traps, clone your crowd to new size at certain checkpoints and face every possible challenge in Crowd Run 3D.   
You can control the game with the mouse or by swiping. With the coins that you will earn with each character you bring safely to the finish line, you can buy more characters for your team.     
Guide your team safely past every hammer and spike now and play Crowd Run 3D free online on Kibagames!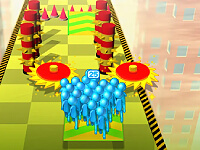 Crowd Run 3D
Originalname:
Game Hits:
302
Online since:
19.
10. 2021
Developer: