Crêpes
Approved for all ages
Crêpes - bake thin French pancakes!
Crêpes is a cute cooking game in which you'll be able to prepare the classic French pancake with baby Hazel and her mother.
Crêpes are basically very thin pancakes that can be topped with lots of interesting toppings and folded up. Flambéed crêpes Suzette are possible, as well as those with sugar and cinnamon, or even a savory topping like tomatoes and cheese. Or how about chocolate cream or Nutella and bananas?
Baby Hazel loves to eat crepes, so Mama Hazel is wielding the wooden spoon again.
In the first part, mix the batter together - eggs, water, flour and a little salt are needed. Carefully apply the liquid batter to the hot plate, on which they are fried briefly crispy. The second level involves decorating and folding the Breton specialty. After that, you can serve Baby Hazel the delicious crêpes and even print out the recipe and cook it yourself.
Prepare a delicious snack now and play Crêpes free online on KibaGames!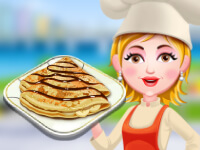 Crêpes
Originalname:
Game Hits:
0
Online since:
17.
06. 2022
Developer: