Cottagecore: Aesthetic Dress Up
Approved for all ages
Cottagecore: Aesthetic Dress Up - style romantic rustic outfits!
Cottagecore: Aesthetic Dress Up is a cute dress-up game in which you'll be able to style an avatar in the popular romantic aesthetic.
There is no time as mysterious as autumn. Fog, leaves changing color, and mushrooms now sprouting up everywhere. There's something enchanting about it, just like the cottagecore aesthetic you can use here for a pretty new fall outfit!
You'll have plenty of options to customize your character's appearance at first. Start with the hair and choose the eye color, eyebrows, nose and mouth. Next, you can put together the clothes. Choose playful dresses with ruffles and plaid or floral patterns and finish the romantic look with lots of details. Pick feminine tops and skirts and give them playful patterns with motifs like mushrooms, late summer flowers or dots. An apron, straw hat and matching shoes are also part of this cute or nostalgic look.
You can change the color and look of each garment. When you're happy with your outfit, you can choose decorations for the overall look. Here you can find farm animals like a chicken or mushrooms, grasses and much more, all matching the Cottagecore theme. Even afterwards you can change details or the background and create an atmospheric picture.
Create a new avatar in the popular style inspired by British country life now and play Cottagecore: Aesthetic Dress Up free online on KibaGames!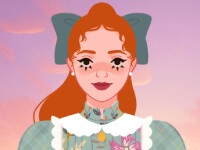 Cottagecore: Aesthetic Dress Up
Originalname:
Game Hits:
0
Online since:
14.
10. 2022
Developer: