Cottage Core Vs Fairy Core Rivals
Approved for all ages
Cottage Core Vs Fairy Core Rivals - pit country house against fairy tale!
Cottage Core Vs Fairy Core Rivals is a cool dress-up game in which you'll be able to pit the reinterpreted country house style against the fairy forest style.
Which of the two aesthetics do you like best? In Cottage Core, romantic style elements are used, reminiscent of an idealized country life. In the Fairy Core, fairy-tale elements come into play - fairies serve as inspiration for the various style elements.
Apply the appropriate makeup for both models first and then put the outfit together. You'll find ruffles and delicate colors in the Cottage Core, as well as wicker baskets and flower wreaths for the hair. The Fairy Core is even more imaginative - glitter and fairy wings are welcome here and the dresses are even more colorful and extravagant. Leaves of the forest play a big role, as legend has it that fairies live in the trees. After styling, you can design the living room of the two friends and use different elements from both aesthetics.
So similar and yet different! Play Cottage Core Vs Fairy Core Rivals free online now on Kibagames!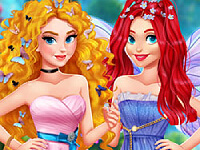 Cottage Core Vs Fairy Core Rivals
Originalname:
Game Hits:
123
Online since:
19.
11. 2021
Developer: