Connect Master: Classic Game
Approved for all ages
Connect Master: Classic Game - Connect cute pairs!
Connect Master: Classic Game is an exciting puzzle game in which you can connect two identical, cute motifs in 100 levels.  
Clear all the tiles in each field and combine pairs with the same motifs. Make sure that there are no other stones in the way, because they block the removal. You can draw the imaginary connecting line between the tiles once or twice around the corner or connect adjacent tiles. Bending around three or more corners is not possible. Delicious sweets, cute animals, flowers, fruits and motifs from all four seasons make for a beautiful sight.
Use the power of power ups
With each level you unlock power ups that you can buy to use in the next game. You earn money by successfully completing levels. The better your score, the more coins you will receive. Also keep an eye on your skill progress bar. When it's full from successful play, you'll win a crate and can use it to get the power ups as well.
Highlight motifs that belong together.
Swap the motifs on the tiles.
Shuffle the board.
The magic wand can instantly remove tiles marked with a bomb.
These bombs, which mark certain tiles, start appearing at level five. When you remove them, another pair is immediately removed as well.
In the start screen you can set the theme of your play area, you play the motifs freely. You can also find the store in the main menu, where you can buy the mentioned bonuses by means of coins.
More fun Mahjong games for you
If you liked Connect Master: Classic Game, why don't you play Onet World?
Don't miss this new fun game for in between and play Connect Master: Classic Game online for free on KibaGames!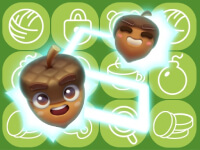 Connect Master: Classic Game
Originalname:
Game Hits:
0
Online since:
05.
02. 2023
Developer: