Combo Slash
Approved for Ages 6+
Combo Slash - reunite Elsa and Anna!
Combo Slash is a fun brain teaser game where you pull out pins in the correct order and reunite the royal sisters Anna and Elsa.
Pull out the pins in each level in the correct order so Elsa can get to her beloved sister Anna. But be careful, in this maze of sticks lurk numerous dangers such as the crazy unicorn or the polar bear that will get to the girls if they don't hold back the pins. However, the polar bear will also eat the unicorn - so use it on this enemy first before banishing it from the game with clever moves. Bombs and shooting devices can also be used strategically. Just be careful that they don't knock out the sisters as well.
Puzzle your way past all the obstacles and dangers and play Combo Slash free online on Kibagames!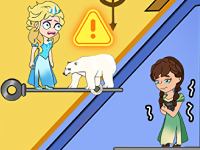 Combo Slash
Originalname:
Game Hits:
98
Online since:
03.
12. 2021
Developer: