Color Tunnel 2
Approved for all ages
Color Tunnel 2 - dash through an endless tube!
Color Tunnel 2 is a fast reaction game in which you'll be able to whiz down a colorful tube without bumping into any obstacles.
Ready for a new high score game in a class of its own? Set a new track record or break your old high score now! Steer as far as you can with the arrow keys through the spinning colorful tunnel tube. Test your reflexes and skillfully avoid all obstacles that are painted white and can also rotate.
And don't worry, if you do crash into one of the obstacles in Color Tunnel 2, you can always start over or revive yourself for Rewarded Ads.
How can you make the ball roll? Find out now and play Color Tunnel 2 free online on KibaGames!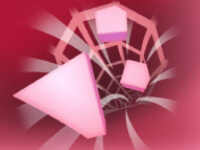 Color Tunnel 2
Originalname:
Game Hits:
0
Online since:
15.
06. 2022
Developer: