Coffee Mahjong
Approved for all ages
Coffee Mahjong - combine espresso and cookies!
Coffee Mahjong is a cute mahjong game where you can clear tiles with lots of delicious hot drinks, beans and cookies.
Play through 17 levels and always combine two tiles with the same objects. In Coffee Mahjong you will of course find lots of cups and mugs with cappuccino, latte macchiato or even an iced coffee with cream! Spoons in different numbers are also included, as well as donuts, waffles or chocolate cookies.
Now quickly clear all the towers and unlock the mahjong tiles at the bottom. Each level has a time limit. If you are fast enough, you will even get a time bonus for the next game round.
You can't get any further? No problem, get a hint or reshuffle!
And now off to the café! Pass the time with sweet things and play Coffee Mahjong free online on Kibagames!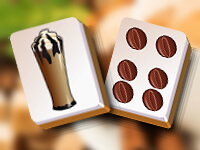 Coffee Mahjong
Originalname:
Game Hits:
473
Online since:
16.
12. 2015
Developer: