City Blocks
Approved for all ages
City Blocks - merge your way to a new city!
City Blocks is a fun match 3 game where you can strategically merge buildings to create larger and larger housing units for more people.
Place the various large houses on the playing field and always merge three of the same buildings to form a new unit.
Note: They merge at the place on the board where you place the last house of the group of 3. Keep this in mind for your strategy. At the bottom left you will see the next three City Blocks that you have to place somewhere. Build bigger and bigger blocks to accommodate even more people. You can see the exact population in the upper right corner. Of course you want to have as large a number as possible.
With good moves, such as unlocking a new building type, you can win jokers and use them to buy houses. Use them tactically and let your city grow. When you run out of space in your new metropolis, the City Blocks game round is over. Then simply start a new game!
Experience long fun as a city planner and play City Blocks free online on Kibagames!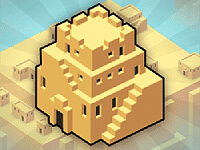 City Blocks
Originalname:
Game Hits:
77
Online since:
12.
02. 2022
Developer: