Card Match 10
Approved for all ages
Card Match 10 - Make sums up to ten!
Card Match 10 is an exciting math game in which you can combine tiles so that their total value equals ten.
The playing field in Card Match 10 looks like mahjong at first glance. However, it has a mechanic that you know from Match 3 games. Your objective is to add two or more tiles so that their sum is ten. By doing this, you'll clear them and get points.
To manage the tiles, you have a tray at the bottom of the screen where you can combine and store the tiles. So try to clear the number of tiles (target) shown below to reach the next level. With successfully completed levels you earn coins, which you can use to buy new backgrounds. If you ever need some help, you can also remove tiles from the game or expand your storage bar.
Other interesting math games
If you liked Card Match 10, why don't you play Make Me 10?
Here you will find a lot of entertainment with brains! Play Card Match 10 online for free at KibaGames!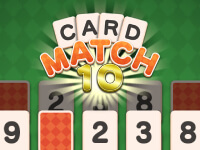 Card Match 10
Originalname:
Game Hits:
0
Online since:
15.
04. 2023
Developer: