Candy Rain 7
Approved for all ages
Candy Rain 7 - new fun in the candy paradise!
Candy Rain 7 is a cool match 3 game in which you can once again combine lots of sweets and face exciting challenges.
Thanks to its great popularity, the popular Candy Rain game series is now entering its seventh round! Use the familiar Match 3 gameplay to combine three of the same candies and clear them away. It's mouth watering, so keep a bowl of real gummy bears handy while you play!
How to play Candy Rain 7
Match three or more of the same candy and complete the level objectives.
And if you're looking for a challenge, you can play in Tournament mode in the upper right corner for a new 20-move high score.
If you can combine more than three tiles, all the better. Four candies create row or column breakers, and chains of five create the coveted joker drops. With them you can take a color of your choice from the board.
In the higher levels, face additional missions such as removing chocolate stains or breaking cookies. You also have to make ice cubes melt.
Tips and tricks for success in the land of milk and honey
To clear all the candies at your leisure, you can also resort to some boosters, which you can also buy with your won coins.
Activate them before the level and start your first moves with great successes!
Use power ups during the game: Trade candy or use the hammer to destroy a tile. Use the stars to clear a row or column of your choice.
Also get your daily reward and look out for the treasure chests or gifts from Poppy the Lollipop Man between levels!
More great Match 3 with sweet candies
If you liked Candy Rain 7, why not play Candy Rain 5 or Candy Riddles?
Now go for the candy! Combine the colorful candies and play Candy Rain 7 free online on KibaGames!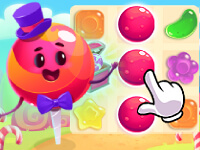 Candy Rain 7
Originalname:
Game Hits:
0
Online since:
06.
08. 2022
Developer: