Candy Maker Factory
Approved for all ages
Candy Maker Factory - prepare a sweet lollipop!
Candy Maker Factory is a simple cooking game in which you'll be able to prepare and package a sweet lollipop.
The basic recipe of the lollipops consists of sugar, gelatin, water and a delicious syrup with a flavor of your choice. Stir all these ingredients together and boil them once. Then, pour the finished mixture into a mold of your choice, where it can chill after you put a lollipop stick inside. Orange flavor is in the selection as well as raspberry or strawberry. Or would you prefer lemon? Create heart-shaped lollipops, round ones or stars. You can wrap the lollipop with a nice protective paper with colorful motifs and decorate it with a cute bow. So it is well protected until someone buys it or you give it away or even eat it yourself.
You always wanted to make your own candy or lollipop? Learn how to do it here and play Candy Maker Factory free online on Kibagames!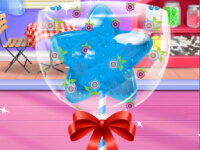 Candy Maker Factory
Originalname:
Game Hits:
25
Online since:
20.
02. 2022
Developer: