Butterfly Shimai
Approved for all ages
Butterfly Shimai - connect wings to create flying butterflies!
Butterfly Shimai is a cool mahjong game in which you can join butterfly wings to create living butterflies.
Make the butterflies fly and click two of the same wings one after the other to join the butterflies and also some bees. You can only play over two corners and the tiles must either be free on one side or right next to each other inside the board. For every match you gain points for your score.
In each level of the colorful mahjong game, there is a time limit of at least 2 minutes that you can beat. Also, use the glowing hints or the magnifying glass to have the hints given and shuffle through if you can't discover any more options to merge in Butterfly Shimai.
If you want to play more merging games with the beautiful spring messengers, try Butterfly Kyodai as well.
Can you make all the moths fly away? Relax now with beautiful butterflies in new 3D graphics and play Butterfly Shimai free online on KibaGames!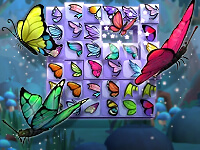 Butterfly Shimai
Originalname:
Game Hits:
0
Online since:
01.
04. 2022
Developer: