Building Rush 2
Approved for all ages
Building Rush 2 - earn money by building a new city!
Building Rush 2 is a cool management game in which you can rebuild a whole city and earn money with it.
Your goal is to make as much revenue as possible and build a new city. For this you also need to grow trees, from which you can use wood as building material. Of course, you also need trucks and truckers to deliver your materials. It is also possible to transport large loads (cues). Wait until a truck becomes available and then load it. After the load is delivered, you get paid.
Manage your fleet of vehicles and use them very efficiently to achieve high profits in Building Rush 2. Of course, you have to do this very quickly, because time is money here, too!
How to play Building Rush 2
Use the mouse or tap to operate the different menu items and trucks and steer with WASD or the arrow keys over the large overview map.
With city development wins like medals and achievements, you'll earn upgrade points that you can use to increase your productivity.
A bronze medal earns 100 points, a silver medal earns 150, a gold medal earns 200, and for every $10 earned above the requirements for a gold medal, you earn one upgrade point.
If you enjoyed Building Rush 2, why not play the first part of the series with Building Rush?
Are you a good manager? Celebrate your first successes with new properties and play Building Rush 2 free online on KibaGames!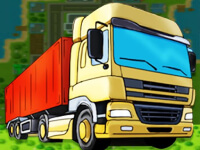 Building Rush 2
Originalname:
Game Hits:
0
Online since:
09.
05. 2022
Developer: