Bucket Crusher
Approved for all ages
Bucket Crusher - Destroy the brick walls!
Bucket Crusher is a new action game from VOODOO in which you can use an excavator to knock down numerous walls!
Use your excavator and a saw blade to destroy the brick wall in front of you and bring it down. The falling bricks are valuable construction debris that will be converted into play money. With this money you can improve your machine and increase its destructive power. At the beginning you have little fuel available, but you can buy more. You can also improve the power with which the saw blade works or its size in exchange for gold coins. The most expensive upgrade is the length of the arm that holds the saw blade. The further you get, the bigger the walls you'll have to knock down, so it makes sense to increase the size of your bucket excavator as well. Then you can demolish not only simple walls, but also entire buildings and objects!
There are also various skins available for you to customize your construction machine in exchange for money.
More online games with big excavators
If you liked Bucket Crusher, then try out Real Excavator Simulator.
Now go for it! Become a demolition expert in the app's online game and play Bucket Crusher free online on KibaGames!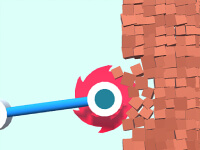 Bucket Crusher
Originalname:
Game Hits:
0
Online since:
10.
03. 2023
Developer: