Bubble Shooter Soccer 2
Approved for all ages
Bubble Shooter Soccer 2 - Shoot colorful soccer balls!
Bubble Shooter Soccer 2 is a new bubble shooter where you can create chains of colorful soccer balls.
In keeping with the World Cup, there is now a new bubble shooter with a soccer theme! Try to clear different colored soccer balls and combine at least three of the same color. If you manage to clear more than three, this is of course better. All hit footballs fall into score boxes with different values at the bottom of the field. Collect as many points as possible and quickly set a new high score in Bubble Shooter Soccer 2!
Also use special power up balls that look like black and white soccer balls. They serve as wild cards and here it doesn't matter what color you shoot at, as the ball will create a shock wave around itself, clearing all the balls on the controlled area of the playing field.
Aim wisely and make sure that balls on the playing field don't touch the bottom of the playing field to be able to play as long as possible and thus set up a high high score.
More entertaining bubble shooters for you
If you liked Bubble Shooter Soccer 2, why not play Bubble Shooter HD 2?
Become a bubble shooting champion yourself and play Bubble Shooter Soccer 2 free online on KibaGames!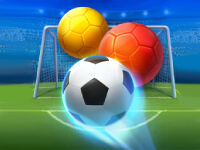 Bubble Shooter Soccer 2
Originalname:
Game Hits:
0
Online since:
19.
11. 2022
Developer: