Bubble Shooter Candy 2
Approved for all ages
Bubble Shooter Candy 2 - make it pop again!
Bubble Shooter Candy 2 is a cute bubble shooter where you can shoot lots of strings of balls against the backdrop of Candyland.
Aim for at least two bubbles in the same color with the mouse or by tapping, holding and releasing with the bubbles. You must match at least three balls of the same color to create a ball chain, which can then fall down. At the bottom of the board, the bubbles then land in baskets with different numbers of points. In the middle of the field you even get 250 points - how many bubbles can you sink here? Of course, in Bubble Shooter Candy 2 you can also collect as many points as possible for a new high score by aiming for the largest or strategically ideally placed ball clusters!
If you liked Bubble Shooter Candy 2, why don't you also play Bubble Shooter Pro 2 and the first part of the Bubble Shooter Candy series!
On your mark, get set, go! Shoot your way to a new high score and play Bubble Shooter Candy 2 free online on KibaGames!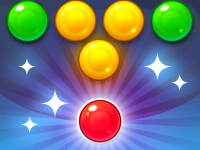 Bubble Shooter Candy 2
Originalname:
Game Hits:
0
Online since:
14.
08. 2022
Developer: