Bubble Shooter Arcade 2
Approved for all ages
Bubble Shooter Arcade 2 - Shoot as fast as you can!
Bubble Shooter Arcade 2 is a fast, new bubble shooter where you can shoot bubbles against the clock for as long as possible!
React quickly at the ball cannon and shoot as many bubbles as possible, because every 15 seconds two new rows of colorful balls are added. Don't let them reach the bottom of the playing field. Shoot your bubble at two or more bubbles of the same color to take them out of the game. Depending on the area at the bottom of the board where the balls fall, you will get more or less points.
You can change the balls in your tube by clicking on the cannon at the bottom. You can also use bonus balls like the rainbow bubble, which you get for especially large ball clusters that are far away. You can shoot these anywhere you want and use them as wild cards. This is tactically smart when a row forms again after 15 seconds and you get closer and closer to the bottom. The rows or bubbles that can mean your game over are shown in red, so you can remove them as soon as possible. Can you set a new high score in Bubble Shooter Arcade 2?
More free Bubble Shooter and Match 3 games
If you liked Bubble Shooter Arcade 2, try the first part Bubble Shooter Arcade.
Keep your nerves, react quickly and play Bubble Shooter Arcade 2 free online on KibaGames!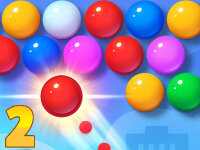 Bubble Shooter Arcade 2
Originalname:
Game Hits:
0
Online since:
28.
01. 2023
Developer: