Bubble Pirates Mania
Approved for all ages
Bubble Pirates Mania - Control the color cannon!
Bubble Pirates Mania is an exciting bubble shooter where you can hunt for points with pirates!
As a red-bearded pirate, clear all the bubbles with the color cannon in 30 levels! Combine bubbles of the same color with each other again. At least 3 bubbles should form a cluster, but it's even better to shoot a larger collection of bubbles of the same color right away. So always keep an eye on where you can hit the largest area.
If you click on your cannon at the bottom, you can swap the charge for the next shot with the one after that and give yourself a strategic advantage. There are also transparent bubbles on the playfield that your bullet will simply pass through.
Use numerous power ups
Of course, you also have various jokers and power ups at your disposal. The power ups are located in the bubbles. If you can hit them, they fall down and are yours.
With the Rainbow Ball, a color joker, you can shoot at a color cluster of your choice and it will match it and burst all the bubbles.
The bomb explodes after you shoot it and it hits the wall of bubbles. It sweeps lots of different colored bubbles off the playing field in one fell swoop.
The purple ball emits an electric shock so that all the balls in the hit row fall down.
Sometimes balls are locked with a chain. To remove the chain, you either need a key joker or manage to clear the bubbles above where the locked balls are stuck.
More new bubble shooters for you
If you liked Bubble Pirates Mania, why not play Bubble Shooter HD 2?
Let's go! Get the cannon back in position and play Bubble Pirates Mania free online on KibaGames!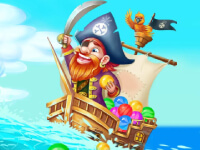 Bubble Pirates Mania
Originalname:
Game Hits:
0
Online since:
01.
01. 2023
Developer: