Bubble 2048
Approved for all ages
Bubble 2048 - shoot with number bubbles!
Bubble 2048 is a fun bubble shooter that also adopts the number-melting principle of 2048.
Shoot the number bubbles at bubbles with the same values, merging them to higher values or taking them out of the game altogether. Start with the 2, the 4, 8, 16,32, 64 and so on. If you can reach the 2048, it will explode and burst even more bubbles. Play through many levels this way and win 200 gold for each level you complete. With these, you can use the continue play option if the bubbles exceed the bottom line.
Also, for better game results, use the boosters like the bomb, the hammer or the exchanger. Sometimes it becomes necessary to exchange your ammunition for a better numerical value.
Collect as many points as possible now and play Bubble 2048 free online on KibaGames!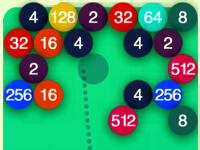 Bubble 2048
Originalname:
Game Hits:
0
Online since:
30.
07. 2022
Developer: