Brownies
Approved for all ages
Brownies - bake delicious chocolate cakes!
Brownies is a cute baking game in which you'll be able to bake and decorate the popular little chocolate cakes.
Baby Hazel's cousins are coming to visit and the little girl, together with her mom, wants to bake and serve them the popular sweets. Brownies are made of chocolate or cocoa cake batter, but they are served in small pieces like cookies. They can be enhanced with nuts and decorated with many different decorations. They are especially popular in their country of origin, the United States, and also in Canada.
Just follow Baby Hazel's mother's instructions and play through four educational levels. In the first level you'll be able to prepare the batter, pick out all the ingredients and mix them together. Then bake the brownie batter and make a chocolate cream to spread on the brownies. When this is still moist, you can add more toppings like sugar pearls, nuts or more chocolate sprinkles.
Baby Hazel cooking games always provide you with a real recipe - maybe you want to use it to bake brownies yourself sometime?
Get back to whisking and play Brownies free online on KibaGames!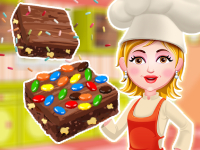 Brownies
Originalname:
Game Hits:
0
Online since:
29.
05. 2022
Developer: