Boxing Stars
Approved for Ages 12+
Boxing Stars - box your way to the championship fight!    
Boxing Stars is an exciting sports game in which you can fight epic battles in the boxing ring as a boxer!
Play through different fights and box your way from the first underground fights through the club rounds to the championship, where you can win valuable trophies. 
Controls: 
Move your boxer with the arrow keys. With A you can try to execute a knockout punch that will send your opponent to the mat.  
With S you can block your opponent's attacks. You can also increase this ability by investing in your defensive skills.
With D, you can perform the knockback blow and try to push your attacker back.    
Keep earning money with victories and upgrade your Boxing Star. You can constantly improve his abilities in power, defense, health and regeneration.     
How many hits can you land? Let your fists do the talking, watch your footwork and play Boxing Stars free online on KibaGames!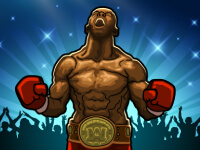 Boxing Stars
Originalname:
Game Hits:
599
Online since:
06.
09. 2021
Developer: