Borr Magic Puzzle
Approved for all ages
Borr Magical Puzzle - bring the wizard to the potion!
Borr Magical Puzzle is an exciting brain game in which you, as a wizard, collect potions on your journey through a dangerous maze.
Make the wizard Borr run through a maze full of laser beams and collect his coveted potions. The controls are simple. Click or tap the place you want the wizard to run to. But of course he can't walk through laser beams. Use plates with movement arrows to redirect the laser beams. Either these lie individually on the board or you find them all together in a box. You must then decide which lasers to rotate and redirect in order to avoid hitting the wizard or destroying the potion.
Puzzle your way through many exciting levels in nostalgic pixel art and play Borr Magical Puzzle free online on KibaGames!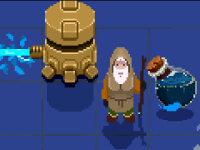 Borr Magic Puzzle
Originalname:
Game Hits:
0
Online since:
26.
12. 2022
Developer: