Black Stallion Cabaret
Approved for Ages 12+
Black Stallion Cabaret - defend a train full of dancers!
Black Stallion Cabaret is a cool idle game in which you'll drive a black steam locomotive full of dancers through the Wild West and even fight nasty dragons.
Drive a dance troupe full of pretty ladies through the Wild West and let the dancers perform their shows in the towns along the railroad line. Unfortunately, the big black steam locomotive "Black Stallion" and its followers are also attacked by flying dragons on the route between the performance locations, against which you can use various defensive weapons.
How to play Black Stallion Cabaret
Fortunately, you can always upgrade the weapons on the wagon roofs through the mechanic. The mechanic not only makes arrows and slingshots, but also costumes and makeup for the dancers, who can thus reach a better level. Extend the train with more wagons at the next station by increasing the score of the dancers.  
Collect and merge items for both the train and the dance group in the merging field and keep leveling them up.
Double click an item if you want to use it.
The warehouse and workshop can also be improved with tools like the hammer, nail or screwdriver.
With the Fight button you can fight epic battles during the journey and receive coins or diamonds as rewards.
Invest them in new and better merging items with higher scores.
Don't miss out on Achievement rewards and exchange coins and diamonds in the store.
Now manage the different resources, upgrade your railroad, fight monsters and make your girls perform entertaining dances - all in one game! Play Black Stallion Cabaret free online now on KibaGames!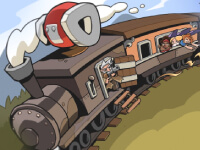 Black Stallion Cabaret
Originalname:
Game Hits:
0
Online since:
04.
07. 2022
Developer: