Bird Sort Puzzle
Approved for all ages
Bird Sort Puzzle - sort all the bird species!
Bird Sort Puzzle is a fun brain game in which you can sort the birds on different branches to their conspecifics.
Click or tap on the corresponding birds and sort them from branch to branch so that all birds that belong together are also on the same branch. If two or more of the same birds are sitting next to each other on a branch, they will fly off together.
Can you match all the same parrots and songbirds? Numerous levels invite players of all ages to puzzle and think.
Various jokers are available to help you in Bird Sort Puzzle. For example, use an extra branch, reset your last move, or get a hint as to which bird you can move.
More exciting brain games with sorting challenges
If you liked Bird Sort Puzzle, then play Water Sort Puzzle.
Sort out the flock of birds and play Bird Sort Puzzle free online on KibaGames!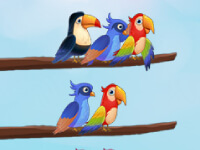 Bird Sort Puzzle
Originalname:
Game Hits:
0
Online since:
10.
04. 2023
Developer: