Ball Tales: The Holy Treasure
Approved for Ages 6+
Ball Tales: The Holy Treasure - Go on a treasure hunt adventure!
Ball Tales: The Holy Treasure is an exciting platform game in which you can play a ball that goes on a treasure hunt!
Help the ball on his great adventure to find a stolen treasure. Can you bring it back? Roll and jump through the levels, dodging enemies or jumping on their heads to knock them out for a moment. Of course, you should also avoid spikes and other traps! Play using the keyboard, WASD or the arrows on the smartphone screen.
With Jungle, Mine and Temple, three different worlds with a total of 45 levels await you! Solve puzzles and tasks on your journey. Sometimes you'll have to move boxes to reach higher platforms or trigger a mechanism to move on. Be careful not to fall into chasms and arrive safely at your destination. Collect coins during the levels and use them to buy skins for your ball. How about a mummy ball or a superhero ball?
More exciting skill games for you
If you liked Ball Tales: The Holy Treasure, why not play Rolling Ball 3D or Red Ball Forever?
Let your ball roll through an exciting story and play Ball Tales: The Holy Treasure free online on KibaGames!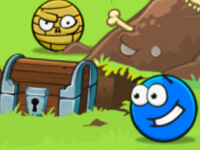 Ball Tales: The Holy Treasure
Originalname:
Game Hits:
0
Online since:
27.
03. 2023
Developer: