Babysitter Daycare
Approved for all ages
Babysitter Daycare - four mini games from sandbox to bedtime!
Babysitter Daycare is a cute care game in which you can take care of four small children.
Play through four levels with different tasks and minigames where you can keep order but also be creative. First, spend time with the kids in the sandbox and build a sandcastle together. This makes the babysitting job fun! Before that, however, the play area must first be cleared of trash.
And so small children are not only cute, but sometimes also cause further chaos! In a second step, clean up the playroom. Sort trash and toys into different bins and mop the floor.
Before bedtime, it's bath time first. Prepare a bath for the four little ones, lather them up and wash and dry them. Then design and paint new colorful diapers for the toddlers and decorate them with patterns and cute stickers.
In the Sleep Time level you can assemble two cribs, paint them and add stickers. Drag the stickers to the desired place after they appear on the crib. Next, choose a beautiful wallpaper, floor and cute mobiles.
Now cater to the different needs of young children and play Babysitter Daycare free online on KibaGames!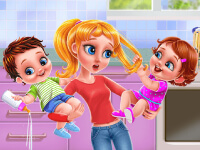 Babysitter Daycare
Originalname:
Game Hits:
0
Online since:
17.
07. 2022
Developer: