BFF's Fun Secret Party
Approved for all ages
BFF's Fun Secret Party - throw a surprise party!
BFF's Fun Secret Party is a fun dress-up game in which you'll be able to style Hailey and Ivy for a surprise party and decorate the event room.
Hailey loves fun and decides to throw a secret party with her best friend Ivy for their mutual friends. For this, the two friends have to dress up properly so that they become the eye-catcher of the party. First of all, apply make-up, which can be more colorful and glittery. Choose blush, eye shadow, mascara, lipstick and contact lenses for the wow effect! Style the hairstyles and choose the right outfit, which should not be too bravura in any case. It may be trimmed with sequins, so that it really glitters in the light. Mix here also different fabrics and styles for the eye-catcher of the evening. Also, don't forget to choose a bag and a chic smartphone case for Hailey and a floral accessory for Ivy to complete the whole outfit.
Once the two girlfriends have finished getting ready, it's time to get the party location ready! For this, you can choose the carpet, the wall color, the couch and the table. Cabinets and tables would also be handy to place the food for the evening. Also choose other decorations like balloons and wall posters. Once all that is done, the party can get started!
Find the best party outfits again and play BFF's Fun Secret Party free online on KibaGames!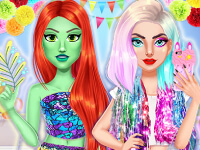 BFF's Fun Secret Party
Originalname:
Game Hits:
0
Online since:
19.
10. 2022
Developer: