Axel Dungeon Sokoban
Approved for all ages
Axel Dungeon Sokoban - push boxes through the dungeon!
Axel Dungeon Sokoban is an exciting logic game in which you can push boxes in a dungeon to the target.
In this exciting Sokoban game with a trendy retro look, your goal is to push all the crates to the green target points. Control the little knight with WASD or the arrow keys. Attention, if you can't move your character after the commercial, just click into the game field again.
Think carefully which crate you move first, park some crates at a favorable place in the dungeon and finish the level with as few moves as possible. Be careful, the crates must always be pushed from the back to the front. If you have maneuvered yourself in front of a wall, you can start the level in Axel Dungeon Sokoban again from the beginning.
Let's go, little crate pusher! Try to find the right solution and play Axel Dungeon Sokoban free online on KibaGames!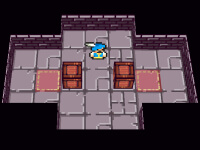 Axel Dungeon Sokoban
Originalname:
Game Hits:
0
Online since:
21.
06. 2022
Developer: