Arrow Challenge
Approved for all ages
Arrow Challenge - multiply your arrows!
Arrow Challenge is a cool skill game in which you'll be able to send arrows through a parkour with multiplication options and defeat numerous knights at the end.
Direct the arrows with the mouse or by swiping and let them pass numerous bonus gates on the way to the level goal. Here you can add more arrows or multiply the number of projectiles. But be careful, if you recognize a minus or a fraction by the colon, you will of course lose arrows. Taking times with one doesn't get you any more arrows, but you don't make a loss either.
So a little math knowledge won't hurt, and if you steer your arrows through the green gates, you'll be on the right side. At the end of each level, you'll have to knock over as many guards as possible to earn lots of coins. Upgrade your starting arrow set or your odds of winning then before each level and get as many arrows into the goal as possible.
Archer watch out! Face new missions now and play Arrow Challenge free online on Kibagames!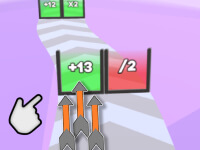 Arrow Challenge
Originalname:
Game Hits:
393
Online since:
16.
11. 2021
Developer: