3D Touch
Approved for all ages
3D Touch - paint colorful paths without dropping off!
3D Touch is an exciting brain game in which you have to color a maze of cubes in just one move.
You probably also know the children's game "Santa's house", in which you have to paint a house without putting down the pencil. 3D Touch works on the same principle.
Play with the mouse or by touch and simply trace the cubes without releasing the mouse button or the screen. Color all the cubes and play through 100 levels. At the beginning 3D Touch is still quite easy, but later the maze game field becomes very twisty and you have to use your brain quite a bit.
Tip: Painting in circles, similar to a snail shell, can lead to good results. If you do have to let go of the mouse button, you can start the level over again.
Get a coin each time you complete a level and use your winnings to buy new backgrounds or color skins for the cubes. This way you can create better visual contrasts, use your favorite color or even give the entire playing field a monochrome look.
More trendy skill games
If you like 3D Touch, why not play Happy Glass or Wood Block Puzzle 2?
Face the colorful challenges, draw the right lines and play 3D Touch free online on KibaGames!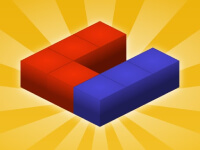 3D Touch
Originalname:
Game Hits:
0
Online since:
17.
09. 2022
Developer: