3 Pandas 2: Night
Approved for Ages 6+
3 Pandas 2: Night - only together are you strong!
3 Pandas 2: Night is an exciting point-and-click adventure game where you have to use your brain to help the pandas escape.
Oh my, the three adventurous pandas have landed on an unknown island during a boat trip in this sequel game to "3 Pandas". After hastily fleeing from the unfriendly locals and getting washed away in the ocean, they wake up at night on an island in the sea. Now it's a matter of working together to escape the island.
Each of the three bears has different abilities:
The tall panda can hold onto jumps or edges, forming a kind of rope that the other two can hang onto. This allows you to reach lower switches, for example, which are otherwise inaccessible. 
The small panda can be thrown upwards by the other two and thus activate switches that are placed higher up. 
The big panda is so strong that it can lift the other two. This is especially handy when there is nothing to climb or jump on nearby.
Can you combine the abilities of the three animal adventurers and use them to your advantage? Overcome the dangers, find the exit in each level and help the three pandas on their nightly escape!
Demonstrate a sharp mind and combination skills and play 3 Pandas 2: Night online for free on KibaGames now!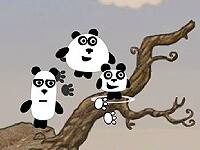 3 Pandas 2: Night
Originalname:
Game Hits:
0
Online since:
22.
07. 2022
Developer: